Reimagining Your
Business with Salesforce
We know Salesforce – the technology, the strategy and how it applies to industries. With an eye on innovation, AllCloud brings in technical expertise early, leveraging years of experience to design, architect and implement a Salesforce strategy that meets your organization's needs today and builds a plan for the future.

Areas of Expertise
Our end-to-end expertise and incorporation of a multi-cloud strategy ensures that Salesforce is used as a catalyst for change, for innovation and for the growth of your organization. Our experts and specialty practices have the roadmap to get you there.
Retail & Consumer Goods
Manufacturing
Real Estate
Sales Cloud
Service Cloud
Marketing Cloud
Commerce Cloud
Experience Cloud
Pardot
Revenue Cloud
CPQ & Billing
Consumer Goods Cloud
Field Service Lightning
Salesforce CDP
Tableau
Salesforce Solutions & Offerings
Accelerating time to value and growth for your organization.
Engage Managed Services
As your business evolves and grows, having the right technology, processes, and management in place is critical to achieving your goals. As you grow, your Salesforce platform should grow with you.
With AllCloud's Engage Managed Services for Salesforce, customers get access to specialty resources and skills. Let our team help you to effectively manage and evolve your Salesforce investment without draining your resources, freeing up internal teams to focus on strategic priorities, instead of tactical Salesforce maintenance.
Automation and Integration Solutions
Seamless Integration. Powerful Automation.
Automation and integration are crucial both for SaaS and On-Premise platforms, ensuring more consistent service, quicker turnaround times and reduced costs.
By increasing automation and the usage of integration tools, companies can improve their digital assets, enhance their customers' user experiences, and build brand loyalty and value in the long term.
AllCloud is a Workato Platinum Partner, and the AllCloud team has specialist expertise in Workato integration, bringing the benefits of Workato to customers of every size.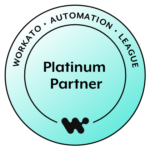 Streamline  Processes

Increase Productivity
Improve Results
Accelerating Innovation with Salesforce
Our Salesforce Customer Success
Research: The Expanding Salesforce Footprint in Mid-Market Organizations
Download the report to learn AllCloud and key decision makers in the Consumer Goods, Retail, Manufacturing and High Tech industries see Salesforce and its expanding role organizations can embrace to stay ahead of the curve.