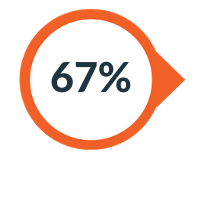 of CRM customers said that finding time to evaluate systems was a major problem.*
Has your company found the time to ensure you are making the most out of your Salesforce investment? If not, then it's time for a health check.
Just as your company grows and evolves, so does Salesforce and should be a catalyst to help your organization through change, growth, and success. That's where AllCloud's Salesforce Health Check comes in.
AllCloud's one-day review Salesforce Health Check provides a quick and risk-free opportunity to evaluate your business needs and review your organization's next steps to realize the value of your investment. Following the Health Check, AllCloud will deliver a summary of key findings, an actionable plan, and a high-level roadmap for implementing these recommendations.
SALESFORCE CLOUD PRODUCTS FOR REVIEW INCLUDE:
✓ Pre-questionnaire to evaluate current state & goals
✓ Discovery session with reverse demo in your environment
✓ Hands-on analysis from a Salesforce Solution Engineer
✓ Report of findings & recommendations
Ready to gain immediate value from your Salesforce investment?
Get in touch with one of our Salesforce experts today.