As more companies adopt the work-from-home approach and make quick efforts to digitally transform their business with the increased use of cloud technologies, the need for cloud security takes precedence more than ever.  
According to Forrester, 30% of organizations will increase their spending on cloud and security in 2021. With the public cloud infrastructure market predicted to grow by 35% to $120 billion and remote work expected to rise by 300% post-pandemic, cybercrime will be at its prime and is forecasted to cost the global market $6 trillion in damage in 2021 alone. Maintaining a good cloud security posture is top of mind for all companies to stay ahead of the threats to come, but many organizations do not know how to start enforcing security best practices.
According to Check Point, 68% of enterprises today regard the misconfiguration of assets in the cloud as the biggest contributor to cloud security threats and unauthorized access as the second with 58% of responses. Additionally, research by Cybint contributes 95% of these types of security breaches to be the cause of human error.
As the cloud security landscape evolves, AWS-native security services have modernized and expanded to meet customer demands and protect against the growing vulnerabilities present as a result of the new normal. 
There are many steps an organization should take to improve its overall security posture and reduce risk. In regards to the cloud, it is important to understand the security services available for you and how to start utilizing them. After you gain familiarity, you want to make sure you are setting up and configuring them according to best practice and not just your security services, all of your AWS services should always be set up with security top of mind. 
When it comes to implementing and enforcing security best practices there is no reason to reinvent the wheel, leveraging automation is a key part of staying ahead of security issues.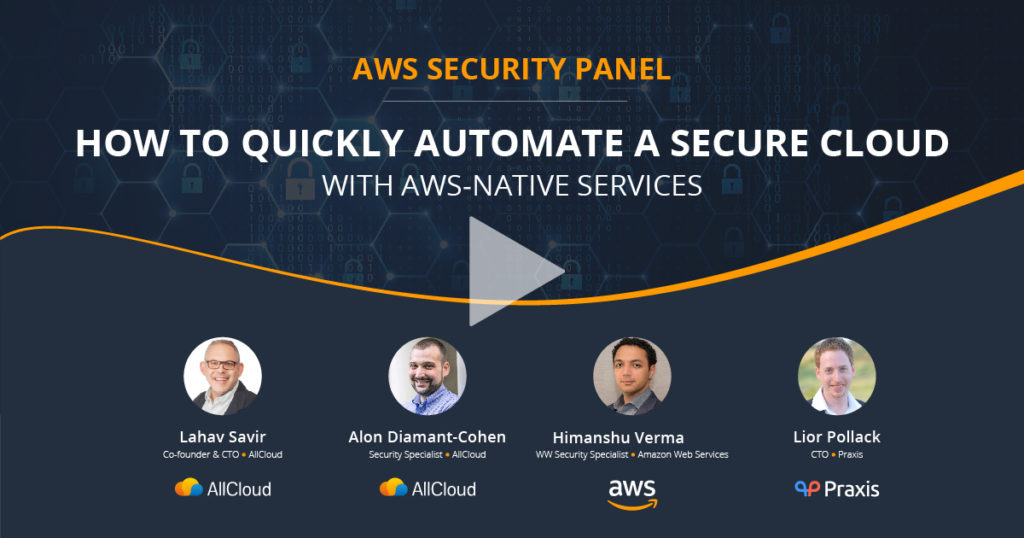 During this live panel, AWS and AllCloud security experts will address the current cloud security challenges, while introducing the AWS services and configurations to build a solid foundation for protecting data, detecting and responding to threats, enforcing compliance, and centrally monitoring and governing multi-account environments.
Beyond leveraging key AWS services, AllCloud will demonstrate how to quickly set up and automate AWS security services and best practices with the Next-Generation Landing Zone governance solution, fostering the agility and cost-efficiency necessary to focus on your continuous business innovation without worrying about security configurations.
Join AWS and AllCloud security experts on March 17th for the Live AWS Security Panel to get familiar with the services and best practices needed to enforce and manage comprehensive cloud-native security.
Stay ahead of challenges and protect your organization against the next major threat. Watch the event`s recording now.