While the adoption of innovation in consumer tech moves at impressive speeds, enterprise adoption typically plods along a few paces behind. This is especially true when it comes to custom chips, which are driving significant performance improvements in cloud computing. However, we're starting to see increased enterprise adoption of purpose-built chips, primarily thanks to Amazon Web Services' Graviton processors. 
Advances in purpose-built chips offer a wealth of opportunities to SaaS companies looking for ways to deliver features to customers faster and increase customer adoption. Let's explore how using Graviton processors can enhance the SaaS experience and simultaneously improve profit margins.
What Is Graviton? 
Graviton processors were designed by AWS based on Arm technology and libraries and optimized for cloud workloads. The latest Graviton processors deliver a superior performance-to-cost ratio, providing up to 7x better performance over the first-generation Graviton processor. Their capabilities are ideal for businesses looking to reduce infrastructure costs while maintaining high performance.
Benefits of Using Graviton
There's no shortage of reasons to choose Graviton processors. Here are five of the most significant. 
Cost Savings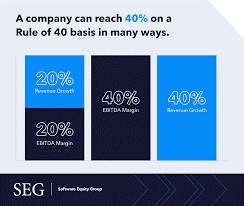 One of the most common ways to judge the health of a SaaS company is the Rule of 40, which states that a software company's combined revenue growth rate and profit margin should equal or exceed 40%. SaaS companies above 40% are generating profit at a sustainable rate, whereas companies below 40% may face cash flow or liquidity issues. The cost of running SaaS applications can quickly increase, eating away at margins. As companies get larger, their quarterly growth rate tends to slow, so margins become more critical.
Graviton processors are designed to be more cost-effective than traditional processors (Intel, AMD, etc.) while still delivering high performance. This means that businesses can deliver a better customer experience while cutting costs. Additionally, increasing profit margins can directly impact the company's valuation, leading to secondary benefits.
Scalability
Graviton processors are designed to be highly scalable, so a business using Graviton can easily add more resources as its user base grows. Scalability also makes it easier for businesses to manage their SaaS applications since they don't have to worry about managing complex infrastructure to accommodate their growing user base. Instead, companies can simply add more Graviton instances to their infrastructure as needed, with AWS handling management.
High performance
The C7g instances are available in eight sizes, with 1, 2, 4, 8, 16, 32, 48, and 64 vCPUs. C7g instances support configurations up to 128 GiB of memory, 30 Gbps of network performance, and 20 Gbps of Amazon Elastic Block Store (Amazon EBS) performance. The AWS Nitro System, a combination of dedicated hardware and a lightweight hypervisor, powers these instances. The following table summarizes the key characteristics of each instance type in this family.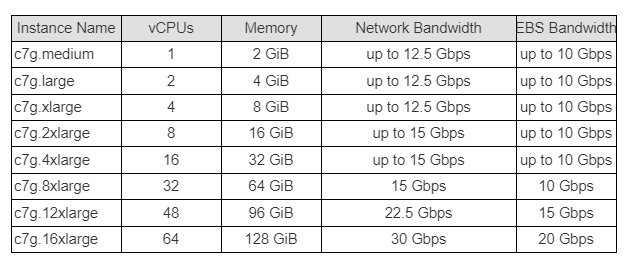 Energy efficiency
The Graviton processor is highly energy efficient, delivering up to 40% better price/performance than comparable x86 or x64 processors. This efficiency means that Amazon web services can reduce energy costs, maximizing the sustainability footprint while translating the savings directly to the customer.
Security 
Graviton processors have multiple layers of security, making them more resistant to compromise. AWS Graviton3 processors feature always-on memory encryption, dedicated caches for every vCPU, and support for pointer authentication. EC2 instances powered by AWS Graviton processors are built on the AWS Nitro System that features the AWS Nitro security chip with dedicated hardware and software for security functions and support for encrypted Amazon Elastic Block Store (EBS) volumes by default. By using Graviton processors, businesses have confidence that their SaaS applications are secure and their data is protected.
Migrating to Graviton 
Be aware that before you move your workload to Graviton, you have to ensure that your application has the necessary Arm libraries installed.
AWS offers a framework for safely transitioning your application into Graviton. The following table presents a high-level summary of the process.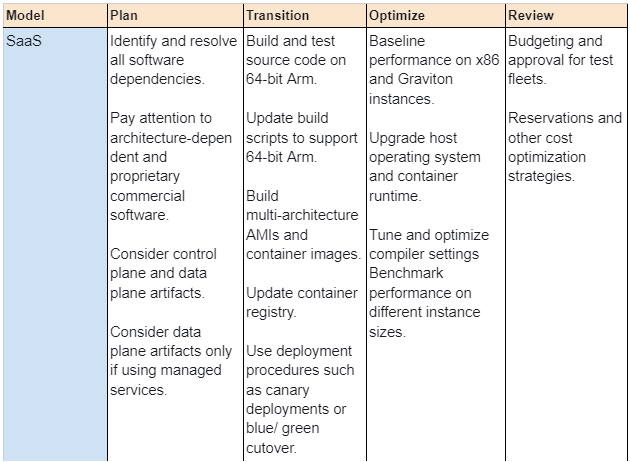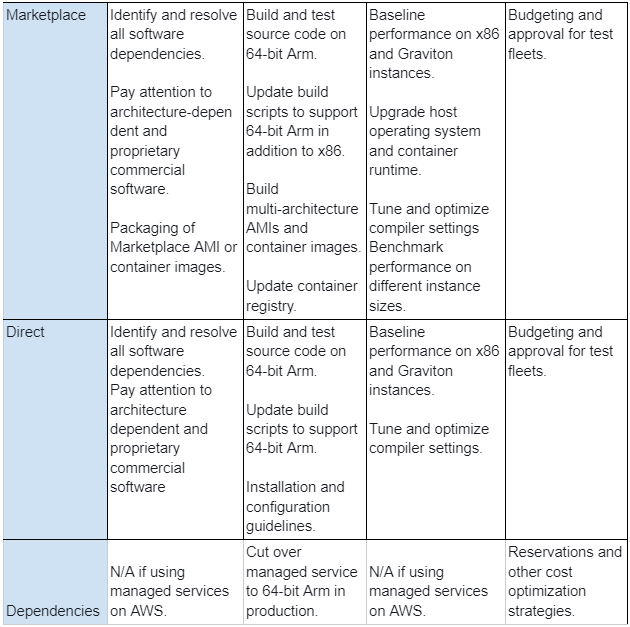 Graviton for SaaS with AllCloud
AWS Graviton processors offer exceptional benefits for businesses that are using the SaaS model. These benefits make Graviton processors an excellent choice for software vendors looking to reduce their infrastructure costs while maintaining high performance for their SaaS applications. Additionally, businesses can achieve faster innovation and invest cost savings into growth strategies.
AllCloud is helping customers accelerate and scale their adoption of AWS Graviton. Our experts help to streamline moving workloads and ease adoption so our customers can more quickly achieve increased performance, reduced costs, lower latency, and better scalability. Thanks to our successful history of helping customers transition to AWS Graviton and AWS Managed Services, AllCloud has earned the AWS Service Delivery designation for AWS Graviton.
Ready to adopt AWS Graviton? Learn more here and contact our experts today!