AllCloud provides a wide range of data analytics services, including for machine learning 
Berlin, Germany. 13.02.2023 – AllCloud, a leading global cloud services company and Premier Tier Services Partner in the AWS Partner Network (APN), announced today that the research report "ISG Provider Lens™ AWS – Ecosystem Partners Germany 2022" has designated it as a "Leader" in the data analytics and machine learning category. AllCloud has received this distinction due to its multiple AWS competencies; the breadth of its service spectrum; its strong growth; and its close collaboration with AWS.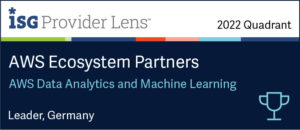 The ISG report offers information about the services of 50 providers in six areas: AWS Managed Services, AWS SAP Workloads, AWS Data Analytics and Machine Learning, AWS Internet of Things (IoT) Services, AWS Migration Services and AWS Consulting Services. AllCloud is a Leader in the Data Analytics and Machine Learning segment. A provider is rated as a Leader if it offers a highly attractive range of products and services as well as a very strong market and competitive position, which enables it to fulfill all of the prerequisites needed to develop the market successfully.
"We're very proud of this accolade by ISG," says Ronit Rubin, President, EMEA, at AllCloud. "The fact that we have been rated as a Leader in the data analytics and machine learning segment three years in a row demonstrates how we are continually improving, working hard and not resting on the laurels of our previous successes. We are continuing to offer our customers expanded innovation through our data and analytics offerings, as well as industry leading expertise through AllCloud's Engage managed services."
Today more than ever, companies need to make decisions while taking parameters into account that change faster and more often. Artificial intelligence (AI) and machine learning (ML) are increasingly used to help them. However, the data these technologies draw from is usually unstructured and stored in silos that are rarely analyzed. German companies are increasingly beginning to recognize that data – and the analysis of it – is an indispensable resource for business success. Due to the significant complexity of integrating these solutions into companies' existing infrastructure, they often need to call on external specialists. They turn to companies like AllCloud for everything from readiness checks and strategy consulting to technical implementation and integration as well as operations. These specialists have proven expertise in data analytics and machine learning as well as integration, services management professional and managed services.
AllCloud has been a Premier Consulting Partner and certified Managed Services Partner since 2008, and recently won the AWS Global "Machine Learning/Artificial Intelligence (ML/AI) Partner of the Year" award. Today, AllCloud holds seven AWS competencies as well as over 300 AWS certifications and has already carried out more than 3,000 cloud deployments. Its customers include Valtech Mobility, JOYNEXT, Orion Engineered Carbons, EyeControl and VOK DAMS. AllCloud provides a wide range of professional and managed services that span cloud migration, SaaS enablement, IT security and compliance along with DevOps, KI/ML, data and analytics.
The "ISG Provider Lens™ AWS – Ecosystem Partners Germany 2022" report can be downloaded here: https://allcloud.io/go/aws-isg-report-2022-en/
About AllCloud
AllCloud is a global professional and managed services company providing organizations with the tools for cloud enablement and transformation. Through a unique combination of expertise and agility, AllCloud accelerates cloud innovation and helps organizations fully unlock the value received from the cloud.
As an AWS Premier Consulting Partner, a Salesforce Platinum Partner and Snowflake Premier Partner, AllCloud helps clients connect their front office and back office by building a new operating model that allows them to harness the benefits of cloud technology and data analytics. With the incorporation of our IP-based solutions into customer's roadmaps, AllCloud also enables an increased productivity engine for clients and allows them to achieve operational excellence on the cloud, with a secure environment, at every milestone of their journey to becoming cloud first.
AllCloud serves clients across the globe with offices in Israel, Europe and North America. www.allcloud.io.