AllCloud leads in Data Analytics und Machine Learning area according to the "ISG Provider Lens™ AWS - Ecosystem Partners Germany 2022" report
AllCloud, a leading global cloud services company and Premier Tier Services Partner in the AWS Partner Network (APN), announced today that the research report "ISG Provider Lens™ AWS – Ecosystem Partners Germany 2022" has designated it as a "Leader" in the data analytics and machine learning category. AllCloud has received this distinction due to its multiple AWS competencies; the breadth of its service spectrum; its strong growth; and its close collaboration with AWS.
The ISG report offers information about the services of 50 providers in six areas: AWS Managed Services, AWS SAP Workloads, AWS Data Analytics and Machine Learning, AWS Internet of Things (IoT) Services, AWS Migration Services and AWS Consulting Services. AllCloud is a Leader in the Data Analytics and Machine Learning segment. A provider is rated as a Leader if it offers a highly attractive range of products and services as well as a very strong market and competitive position, which enables it to fulfill all of the prerequisites needed to develop the market successfully.
"We're very proud of this accolade by ISG," says Ronit Rubin, President, EMEA, at AllCloud. "The fact that we have been rated as a Leader in the data analytics and machine learning segment three years in a row demonstrates how we are continually improving, working hard and not resting on the laurels of our previous successes. We are continuing to offer our customers expanded innovation through our data and analytics offerings, as well as industry leading expertise through AllCloud's Engage managed services."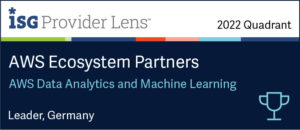 Accelerating Innovation with AWS
AllCloud is the AWS Premier Consulting Partner you can trust to solve complexities and build a scalable solution that evolves alongside your business.