The public cloud offers revolutionary technology, providing companies the ability to implement efficient and quick solutions. However, with so many options and services available, being able to do more and grow faster will, at some point, raise the challenge of controlling costs.
Controlling costs is one of the greatest challenges that IT and finance managers face – especially those in charge of multiple environments and workloads. As new challenges brought on by the COVID-19 pandemic continue to unfold, being able to quickly and properly save on IT costs is critical, while also ensuring you do not create unnecessary damage. Whether a small startup or an enterprise, everyone should consider implementing a system to scale usage and control costs in an orderly manner. With a focus on ensuring business continuity, the cloud makes this a reality for organizations looking to control spend with its pay-for-what-you-use model. 
As a global technology organization, AllCloud is 100% cloud-first, giving us the ability to adjust our IT spend rapidly. Shifting to an IT operating-expense model, specifically on the Amazon AWS enterprise cloud, provides businesses like ours the ability to remain agile for our clients, employees and shareholders. 
Living on the cloud gives users the advantage of scaling up or scaling down. We understand that you may need to optimize your AWS usage, but the first rule we give our clients is that scaling needs to be done strategically and with purpose. Failure to do so can lead to cutting too much or cutting from the wrong places, doing more damage to your business than planned.  
Let's take a look at some of the main tips for optimizing your AWS spend from a strategic nature and some tactical items you can look at immediately.
Traditional Technology Delivery vs Enterprise Cloud
The following models show traditional technology delivery versus enterprise cloud.
This first chart is depicting traditional CapEx spend. In the beginning, there is a large upfront cost that's depreciated over 3-5 years and then you do that cycle all again. The problem with this model is that you are over designing, over architecting and overspending because you can't look into the future, and you can't map that spend to the demand cycle as shown in the dotted line.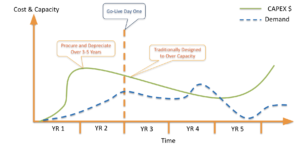 In chart 2, we compare traditional CapEx spend to an operational expense model. When you add the OpEx line in a true enterprise cloud hyper scaled model, you can trend your demand line almost identically. You can spend, you can scale up and you can scale back as needed based on the demand of that app and your clients and users, showing where the cost savings is immediate. You don't have to over design and you can break that cycle so that you're not locked into a CapEx model. This allows you to adjust your business as needed and be as agile as you need to be.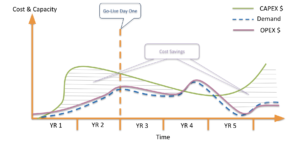 Observed closely, the charts embody three major themes:
Build Hyper-Agility Into Your Business

– In a CapEx model your organization has no mechanism or levers to pull when your business changes. You are locked into your decisions for 3-5 years typically, regardless of the dynamics of your organization. Shifting to AWS and a hyperscale enterprise cloud gives you those change mechanisms.

Break Over-Design Bad Habits –

With a typical "purchase and forget" model, where you are depreciating assets, you typically over design and/or overspend to compensate for what you cannot see in the future.

Become Truly Elastic

– Almost every industry or business heavily leverages technology as a business tool minimum or maximum as a key differentiator at the core of their business.  If you do not have an elastic IT environment your organization will be limited. By leveraging

the

AWS Enterprise Cloud with on-demand and elastic capabilities, you can truly maneuver your business capabilities and costs as your business changes, almost in real-time.
What can you do today to make an impact on Cost Optimization?
So how do you translate this into short term actionable items for your business today? Here are a few areas that AllCloud can help you evaluate and execute on: 
Go to a Managed Services Provider

– Move to an AWS Premier FinOps or Cloud Financial Operations-as-a-Service Partner like AllCloud. This could be one of the simplest ways to save. Through AllCloud's purchasing power and robust cloud financial and optimization reporting, you can look to immediately make an impact to lower your spend and gain better financial operations insight on your cloud spend. AllCloud has a proven approach to inherit current AWS instances into our FinOps offerings rapidly and with minimal effort.  

Reserved Instances

–  Evaluate your current AWS architecture and see if you can look to short or medium AWS Reserved Instances (RIs) to lower your spend quickly.

Go Serverless

– Evaluate the potential to move some or all of your workload architecture to  AWS PaaS Serverless offerings like fully managed data where all costs are optimized along with simplicity to manage. AllCloud architects can design, chart a path and plan to get you there.

Replatform Your Data

– Look to replatform off traditional databases to cloud-native AWS RDS databases in order to break expensive traditional licensing at the data and application server layer.
As you consider the necessary next steps to evaluate your business in order to minimize disruption and move business forward in a cost-effective way, AllCloud's experts are here to help. 
For more information on how AllCloud is helping ensure business continuity, please visit our Business Continuity Response Center.