If it hasn't happened yet, Salesforce Lightning is about to strike your Salesforce instance. Could the upgrade to Lightning Experience interrupt your business?
The answer is YES.
As the rollout continues, customers are slowly being forced to make the transition. While most customers have been receiving email notifications about the option to switch, some are starting to receive company-wide emails telling users that their org will be forced to Lightning by the end of the month.
Users are starting to see a counter in the top right corner when they login: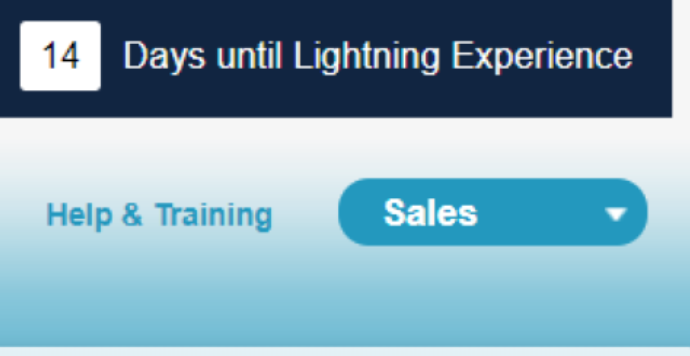 Time is running out.
Companies who provide a time-sensitive service such as customer support, a helpdesk or order desk, may see an impact to their top line revenue and a drop in KPI's if users are not familiar with the new system. If you've decked out your org with customizations, Lightning has the potential to break your business processes until alternate solutions are identified. End-user adoption could drop due to confusion with the new UI and upgraded features.
As the countdown continues, here are 5 things you need to know about the Lightning Experience transition:
1. Salesforce Lightning offers a powerful user experience.
The new user interface has been designed with a sales & service-centric mindset to better support your business processes. The experience extends across all departments including sales, service, apps, platform and more. Largely influenced by the rise of mobile, Lightning brings a modern user experience to the pages in Salesforce that help your sales and service teams focus on the right deals, customers and activities every time users login. It's faster, beautiful and unique to each user. Salesforce offers several resources to help you and your team learn about the benefits of Lightning and how to ensure a successful transition.
2. You need to have a rollout strategy.
While Salesforce Lightning can be enabled with the click of a button, there are several new features and functionality that will impact how your company interacts with its data. Developing a rollout strategy and a clear plan will ensure that you do things in the right order, identify key resources, communicate with everyone and have a clear end date in mind. Salesforce offers Admin training on making the move to Lightning Experience through their Trailhead page.
Depending on the size of your organization, you may be working with a project manager, a change management team or have been charged with doing the migration yourself. Regardless, your role in getting Lightning Experience live is critical, and it starts with learning everything you can about the new interface.
3. Use the Lightning Experience migration assistant.
Admins have the option to evaluate Lightning before making the switch. After enabling the Lightning experience, you can request a report that will be emailed to you with recommendations on what you need to do to ensure a smooth transition. Depending on how much customization has been done to your org, the report will identify functionality that will be affected by the switch and what you need to do to make it Lightning ready.
4. You can request to delay the transition.
If your org isn't ready for the lightning experience, you can delay the transition. Simply contact your Salesforce AE or log a case with support to request that your lightning transition is delayed. This will give you more time to make the switch and prepare your company for the new Lightning Experience.
5. We are here to help.
Depending on the size of your company and the complexity of your org, there could be several boxes that need to be ticked to ensure a successful transition. If you have questions about what's involved, want a second opinion or flat out need help with the transition, our team is here to help. If you contact us through our website, we will be in touch shortly.