As Consumer Goods (CG) companies continue to seek ways to drive profitable growth and margin, leading companies are investing in technologies that will simplify their IT landscape while also enabling a modern single source of truth for their business. 
Trade Promotion, Digital Engagement and Commerce continues to represent 50% or more of SG&A expenses and often over 25% of gross margin for CG companies. With the CG companies seeking to drive growth, retooling and simplifying historically disconnected systems TPM is paying immediate and recurring dividends for CG companies, long after the initial investment, and allow companies to quickly adjust to consumer and market demands.  
More specifically, CG Sales, Marketing, Finance, and Operations teams spend their days in a network of disconnected applications and spreadsheets, trying their best to plan, track, and manage Trade Promotion and Digital Investments for their brands across a multitude of retail channels, partners and outlets–all while trying to drive profitable growth and market share.
The truth: it doesn't have to be that complicated. 
Complexity within go-to-market teams and systems often leaves teams without the ability to get the right information, from the right users, at the right time. These challenges, while not only directly impacting revenue, margin, brand share, channel partners and the consumer, it also reduces the ability to bring speed and agility to business actions. All of these factors ultimately contribute to margin erosion and lack of visibility across all forms of trade and brand investments.
Thankfully, there's a proven solution to address the needs of modern-day consumer goods companies. Salesforce TPM is helping to solve these challenges while driving margin and growth objectives across today's omni-channel marketplace. 
Why Salesforce TPM?
Salesforce TPM gives CG companies a closed loop platform with the flexibility to onboard quickly and drive long term growth in an increasingly competitive omni-channel marketplace. Salesforce TPM also empowers Account teams, HQ Sales, Marketing, Finance, and Operations team members to refocus their energy on the people that matter most, their customers and consumers. 
Salesforce TPM enables a 360-degree view of their business with real-time reporting. With Salesforce TPM, CG companies can more accurately meet consumer demand at every point in the customer and consumer journey–no matter what the world throws at them. Below is a great example of how TPM enables CG companies to drive better outcomes for their business and their key stakeholders.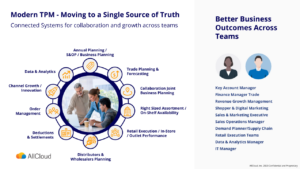 Next, we'll explain how Salesforce TPM turns disjointed trade management processes into dynamic customer engagement strategies that will stand the test of time — despite the omni-channel complexity, labor patterns, and economic headwinds consumer companies face today.
Simplifying Omni-channel Complexity & Creating a Single Source of Truth
Years ago, consumers didn't have much choice in the goods they could buy. Today, that is far from reality: given a brand or category, consumers may have 25 or more different channels to buy any given product. However, legacy TPM systems as noted above have not kept up with the need for more complex and highly dynamic demands within today's marketplace. Our industry clock speed has changed significantly. 
For companies, this translates to increased complexity in omni-channel spend across traditional pricing, promotion spend, as well as media and digital spend with retail and channel partners. The truth is, knowing how brand investments are performing within and across channels, in real-time, can help you assess where to best allocate trade and digital investments. But it's not possible without a modern trade management platform. Yet nearly 71% of consumer goods companies continue to operate with disconnected systems and spreadsheets, which are inefficient, time-consuming, and prone to human error. 
The Benefits of Salesforce TPM 
Salesforce TPM is built with the challenge of omni-channel in mind, giving CG companies the centralized platform they need to track disparate channels and events. The platform integrates with commonly used e-Commerce portals, enabling companies to easily push out and monitor in-store promotions across B2B, B2B2C, and B2C channels. With Salesforce TPM's built-in reporting and analytics capabilities, companies can understand variables that contribute to promotion performance and digital spend investments. 
In addition, Salesforce TPM tracks the consumer behavior driving revenue. This invaluable 360-degree picture of the customer allows companies to incorporate consumer demographics, purchase history, past promotion performance data, POS data, and syndicated datasets into their marketing and sales forecasting engines, placing the customer at the forefront of their efforts.
Salesforce TPM brings all the company's information sources together, giving every key stakeholder in the organization a birds-eye view of their trade promotion processes, systems, and performance.
With this level of granularity, departments can not only identify opportunities to simplify their own processes but also identify opportunities to work closely with other teams. Salesforce TPM allows for the collaborative forecasting, dynamic fund management, and retail integration trade teams need for flawless promotion execution in the eyes of their customers.
Having real-time data also ensures available inventory for their customers as companies scale their promotions up and down. And if more support is needed, companies can take advantage of Salesforce TPM's joint business planning features to make the most of their channel partnerships.
Overall, Salesforce TPM gives Sales, Marketing, Finance and Operations better visibility into what's really happening in each of their channels. It helps them optimize their spend, understand the drivers of demand, improve forecast accuracy across the value chain and empower teams to curate personalized experiences and content for each channel fostering consumer engagement, driving revenue, gaining market share and increasing loyalty.
Modern TPM ROI Delivered 

*
Work with Experts that Know the Industry 
At AllCloud, with 92% of our customers in the Consumer Goods and Retail Industry, we deeply understand the challenges Consumer Goods companies face in leveraging and optimizing their Salesforce and IT investments. 
AllCloud implementation teams for TPM and related go-to-market systems, have the skills and, perhaps more importantly, the experience, to implement, streamline, and support your success. Want to get started on your journey to a simplified, flexible, real-time TPM solution? Get in touch with us.