What if your sales reps could generate quotes faster and easily include recommendations for cross-sell or upsell products? And what if you could ensure the accuracy of those quotes? Most likely, it would mean you could close bigger deals, faster.
Most organizations of a certain size struggle with a similar set of challenges when it comes to efficiently putting together accurate quotes. For example, sales reps often have difficulty finding products within the CRM system because they end up scrolling through hundreds or thousands of product options, many of which might even be outdated. Some sales reps who have been around for a while might have the product names and SKUs of popular options memorized, but that doesn't help when products change over time. It also doesn't help create opportunities around cross-selling or upselling, nor does it help new sales reps get up to speed.
Fortunately, there is an easy solution to these challenges: Introducing a configure, price, quote (CPQ) system.
How Introducing CPQ Can Help Resolve Challenges to Close Bigger Deals, Faster
A CPQ system integrates with your CRM to help automate and put guardrails around the quoting process. Ultimately, these solutions help save sales reps time and make it easier to get new sales reps up to speed fast by: 
Making it easier for reps to find products (and the

right

products, such as in cases where multiple versions of the same product exist)

Surfacing additional products to include for cross-sells or upsells

Ensuring products get bundled correctly and that any necessary fees (e.g. shipping) get included and calculated correctly
In doing so, a properly implemented CPQ system can help create better quotes, faster to grow revenue.
The 7 Must-Have Salesforce CPQ Product Features
If you use Salesforce for your CRM, then Salesforce CPQ is an obvious choice for a solution to resolve these types of challenges. But it shouldn't just be obvious because of the native integration: Salesforce CPQ boasts several capabilities that make it a best-in-class solution. 
With that in mind, here are seven of the must-have product features Salesforce CPQ offers that help increase efficiency and revenue.
Salesforce CPQ Product Features That Increase Efficiency
First, we have four Salesforce CPQ product features that make it easier for sales reps to find the right products, therefore increasing efficiency in the quoting process.
1. Product Search: Salesforce CPQ offers a powerful search function that crawls all values within a product, including product name, SKU, description and category. As a result, it offers a significant improvement over the standard Salesforce product search. The CPQ product search also offers an autocomplete feature that will suggest items that match users' query as they type. Beyond the powerful search itself, organizations can customize what users see on the results page. For example, you can choose to show information like product family, descriptions or any other categorizations alongside product name in the results so that sales reps have more context. This context can help them choose the right option the first time around to further increase efficiency.
2. Product Filters: If your company has hundreds or thousands of products, searching the entire database can still take some time. Product filters help narrow down the search by allowing users to indicate the types of products for which they want to search. This feature is fully customizable by CPQ admins and it allows users to apply multiple filters at once. For instance, users can filter for a certain product family and then further narrow down the criteria by filtering only for products available in certain quantities. Once the filters are applied, users can still conduct a product search (as described above) within the parameters of those filters. This type of filtering is particularly useful for sales reps who aren't sure exactly what they're looking for or where to find it.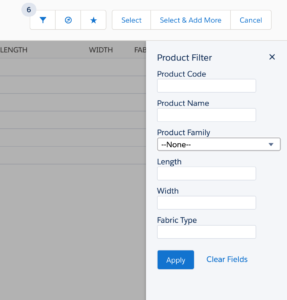 3.  Guided Selling: Guided selling offers a more proactive approach than search and filters to help sales reps find the right products quickly. With this feature, predetermined questions will pop up when users go to the product selection page. Their answers to these questions will refine the list of products they ultimately see. Best of all, not only are the questions fully customizable, but they can also be dynamic, meaning that each user's answer to the first question dictates what the second question asks. All of this makes guided selling a very powerful feature that can proactively take sales reps through important questions about product requirements, quantities and customer needs to help them quickly and easily determine the best products to offer.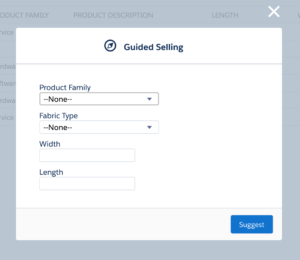 4. Favorites: Finally, users can take any product or bundle of products and mark them as "Favorites" for themselves. This feature helps improve efficiency for sales reps by making it easy for them to quickly find the products they sell most often, since they can simply pull up their favorites list rather than having to search or filter for those products. Notably, users can also share their favorites list with others, which enables sales leaders or rockstar sales reps to bookmark a handful of products or bundles and share those with others to help boost performance team-wide.
Salesforce CPQ Product Features That Help Protect and Grow Revenue
Next, we have three Salesforce CPQ product features that help put guardrails around quotes and identify cross-sell and upsell opportunities, therefore increasing revenue opportunities.
5. Bundled Products: Let's say a sales rep puts together a quote for a laptop and they've identified the right one, but there are five potential accessories (e.g. monitor, mouse), three software add ons and two maintenance or warranty options that can help increase the deal size. Bundled products makes it easy for sales reps to identify product pairings like these and include additional offers to potentially grow revenue. Specifically, when a user selects a product for a quote, the bundled products feature suggests other products that can (or should) go with it. Importantly, it will also issue an alert if users try to bundle products that can not go together.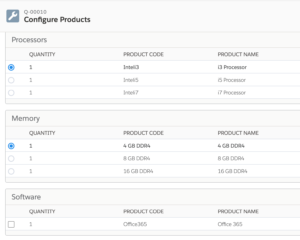 6. Product Rules: The product rules feature in Salesforce CPQ takes bundling one step further by automatically including products that must go together or by including required charges, such as shipping fees and required warranties. Far too often, sales reps send out quotes without shipping charges (or with underestimated shipping charges) that can end up costing businesses hundreds of thousands in lost revenue. This feature is not only a time saver for sales reps, but it also offers a fail safe for protecting revenue since it automatically adds certain required products (or services/fees) to quotes without any additional work on behalf of users.
7. Custom Filters: Custom filters are a subset of the product filters feature described above. These custom filters allow for a certain level of "pre-filtering" before users even search or apply any filters of their own. For instance, you can enable users to select which warehouse or store products are coming from and then use custom filters to "pre-filter" any results to only show products available at that location. This additional filtering helps save time and ensures that sales reps offer the correct products based on availability, which can help avoid costly errors during the quoting process.
Start Taking Advantage of Powerful Salesforce CPQ Features
All of the features listed here come standard with Salesforce CPQ, but they need to be enabled and properly configured to deliver value for your organization. Whether your organization is considering getting started with CPQ or already uses it, these features are readily available to help save time, protect profits and grow revenue by allowing your sales team to create better, more accurate quotes faster.
Realizing these benefits is simply a matter of engaging a partner who can help configure Salesforce CPQ to your organization's unique needs. Ready to get started? Talk to AllCloud today to learn how our CPQ Quickstart can help.